Heat Charts are now included as standard in the ACCEDE Defect Management System
We have recently introduced a new report format option – Heat Charts. Heat Charts display numeric counts analysed across two axes with the magnitude of the count displayed in a proportional colour from the red-yellow-green gradient.
For example …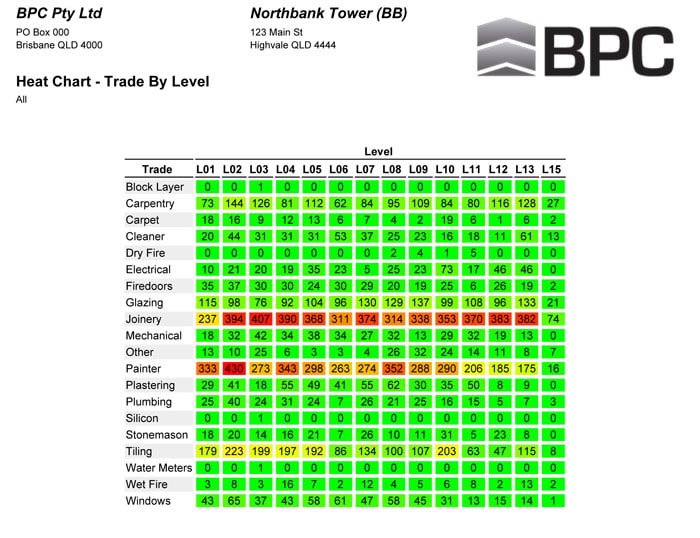 This example indicates quickly that most of our items are related to joinery, painting and tiling. It also highlights clearly a hot spot regarding painting on Level 02.
Users are able to define a broad range of heat charts by selecting which attribute is represented by both rows and columns. To get started, go to Reports/Defects Layouts then define a new layout along these lines, making sure you select "Heat Chart" in the Type drop-down list …
To print the report, go to Reports/Defects Reports and ensure you choose the new layout in the Select Report drop-down list …
Naturally, the usual report filtering options are available.  In this example, the layout was designed to show a simple item count per level and at time of report generation, the items were filtered to show open items only …
David McNichol, National Quality Manager at Broad Construction Services, says about the new heat charts …
"There is a lot of value in these charts as they can provide valuable data which will greatly assist in continual improvement. A heat chart showing how subcontractors have performed during the project can be fed back to the procurement team to assist in developing a quality supply chain. Another chart breaking down by defect reason assists making informed decisions for future works. The charts are easy to read and can be used in all areas of the business."
Please contact us for more information about the ACCEDE construction defects management system or with any suggestions for further system enhancements.