Use this ROI Calculator to show the financial benefit of your defect management system proposal.
Many construction companies need financial justification for capital expenditures or when implementing new technology.  Your research is over and trials are complete.  You've found the right defect management system for your construction business.  Now all that remains is getting the funding approved.  Management want you to prepare a business case to justify the expenditure.  But you're a construction professional not an accountant!  Where do you start?
It's good practice to include the Return on Investment (ROI) in your business case.  The ROI is a profitability ratio.  The ROI measures the money made or saved on the investment as a percentage of the original cost.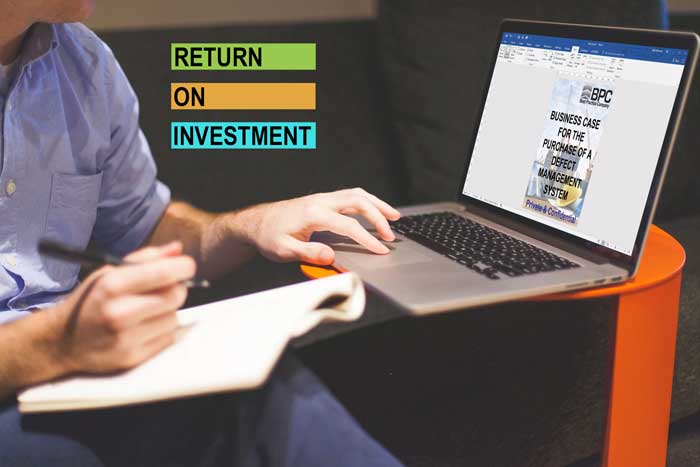 Our ROI Calculator is a simple to use Excel spreadsheet for non-accountants.  Accompanied by an easy to follow User Guide your ROI will be available in next to no time.  The User Guide explains:
the information and assumptions to enter into the ROI Calculator needs, and
where to source the information and guidelines for making assumptions.
The ROI Calculator helps you quantify
the investment cost (e.g. license fees, hardware, training etc)
cost savings (i.e. from productivity improvements) under three scenarios,
for entry into clearly labelled cells in the ROI Calculator spreadsheet.
Other features include simple to print summary pages showing
inputs, assumptions and calculations, and
ROI results
for appending to your business case.
Of greater importance, the User Guide includes a section on interpreting the results. This will help you answer those tough "Sure, but what does that mean?" questions from management.
The outcomes will surprise you and your manager. Especially on projects with costs exceeding $20M. This is due to
the high cost of defecting using traditional methods, and
the low cost of implementing a tablet-based defect management system.
So, no more excuses – time to crack on with your business case. The easiest place to start is with this free ROI Calculator and User Guide.